Durable, Quiet and High Performance Radial Piston Pump (RKP)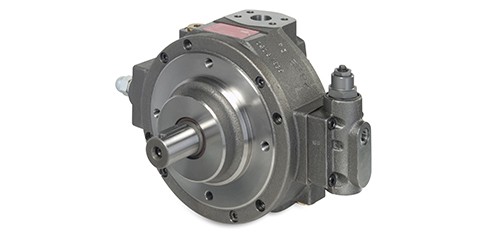 Moog offers an extensive family of RKP products that ideally address the special needs of our customers.
The latest generation of the RKP has been optimized to provide the highest durability and low noise levels as well low flow and pressure pulsation
The RKP-D family of products has an intelligent control mechanism that allows the user to optimize the usage of control entities within a hydraulic system, often making the need for central control hardware redundant
The RKP design is a proven product for harsh environments including a model developed specifically for explosion-proof applications
The family of products has also been developed for systems with special fluids and it has been used extensively in key applications.
Moog is the leading supplier for Radial Piston Pumps (RKP) worldwide. This mature and robust product has been used for decades and runs today in over 100,000 machines in various applications around the globe. It is widely known for its robust and reliable design. 
In the current generation, Moog made significant product improvements in the design to make it quieter and more compact, while offering rapid response times and high volumetric efficiencies.
Benefits / Features
The Moog Radial Piston pump comes in 8 pump sizes between 19 cc and 140 cc per revolution (19, 32, 45, 63, 80,100, 140 and 250) and has a maximum speed range of 1,800 to 2,900 rpm
The standard design permits continuous pressure to 280 bar (4,000 psi) with 350 bar (5,000 psi) peak limit and the high-pressure version is capable of continuous pressures up to 350 bar (5,000 psi) with 420 bar (6,000 psi) peak limit
Large selection of controls, including standard pressure compensator (Type F), remote pressure compensator (Type H), pressure and flow control (Type J,R) and digital electro-hydraulic control (RKP-D)
Various mounting flanges and housings conforming to latest SAE and ISO standards
Clockwise and counter-clockwise direction of shaft rotation
Accessories available to limit maximum flow
Industrial Pump Technologies
Industrial pumps can be seen as the heart of any hydraulic system. Depending on the type of application and the expected performance different families of pumps should be considered. Examples of pump families used depending on the nature of the application are:
Rotary vane pumps
Gerotor pumps
Gear pumps
Screw pumps
Peristaltic pumps
Piston pumps

For high performance or high pressure applications, piston-based designs are the technology of choice. Piston pumps are belonging to the variable displacement pumps and offer long lifetime and high power efficiency.

Within piston-pumps there are two different types that are common in the industrial applications, namely the Axial Piston Pump (AKP) and theRadial Piston Pump (RKP). Each of these types has special characteristics that make it work better in certain cases than the other. However at large, the performance is comparable and the type of the piston pump does not determine the performance of the application rather than the design of the hydraulic circuits.