RKP with Digital Control for High Performance Machines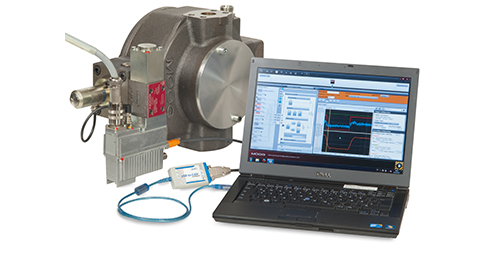 The Radial Piston Pump (RKP) with Digital Control is an electro-hydraulic version of the RKP with a fieldbus interface. It is the flexile and advanced solution for machine applications requiring high dynamics and reliability such as injection molding and metal forming machinery.
The robust and contamination-resistant design of the RKP Pump is well-established in the market. It is now enhanced with a new Servo- Proportional Pilot Valve with digital on-board electronics for flow and pressure regulation, tuning and diagnostics. The high-performance, flexible microprocessor control system design makes this pump the ideal solution for a variety of pressure and flow-controlled systems.
Benefits and Features
Closed-Loop Control: The new pilot valve with digital onboard-electronics provides more dynamics and improved precision control of the basic pump functions (flow and pressure regulations)
Analog or Digital Control: The ability to function as a CANopen device or as a traditional analog device ensures compatibility with several PLC structures
On-the-Fly Adjustment: Changing the parameters of the pressure controller "on-the-fly" enables optimization of the performance of sequential machine processes with multiple cylinders, a process nearly impossible with traditional pump operations
Optimized Multiple Pumps: Optimized multiple pump arrangements in master-slave format now allows users to easily combine multiple servo-pump stages in one common oil volume, while providing superior pressure control
Advanced Troubleshooting: Full access to all internal parameters during runtime helps to minimize downtime and enables users to diagnose common faults via Human Machine Interface (HMI) or laptop interface
Save Space and Assembly Time: No assembly space inside the cabinet is required due to the design of the Digital Control Pump including onboard-electronics